If you follow me on twitter, you probably know I read a lot of things: books, articles, random blogs. Unfortunately, a large percentage of the articles I read make me sad and/or angry and I'm left feeling hopeless and depressed.
While I've gotten a lot better at avoiding certain things (I stopped reading most news, for instance, because the violence was a little much), I still have people sending me articles they'd like my opinion on and others I feel I have to speak up against because they contain intentionally harmful things about marginalized people in technology that I'd rather people not be educated by.
To offset the stress that's caused by these things, yesterday I issued myself and others a challenge: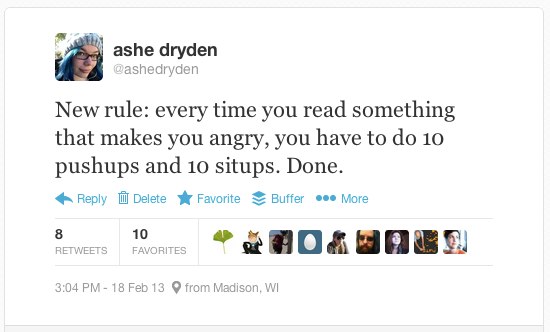 I started it this morning and as of 11am, I've already had to do 40 pushups and situps. I'm tracking the data using Daytum (which is pretty neat and allows you to track any quantifiable data):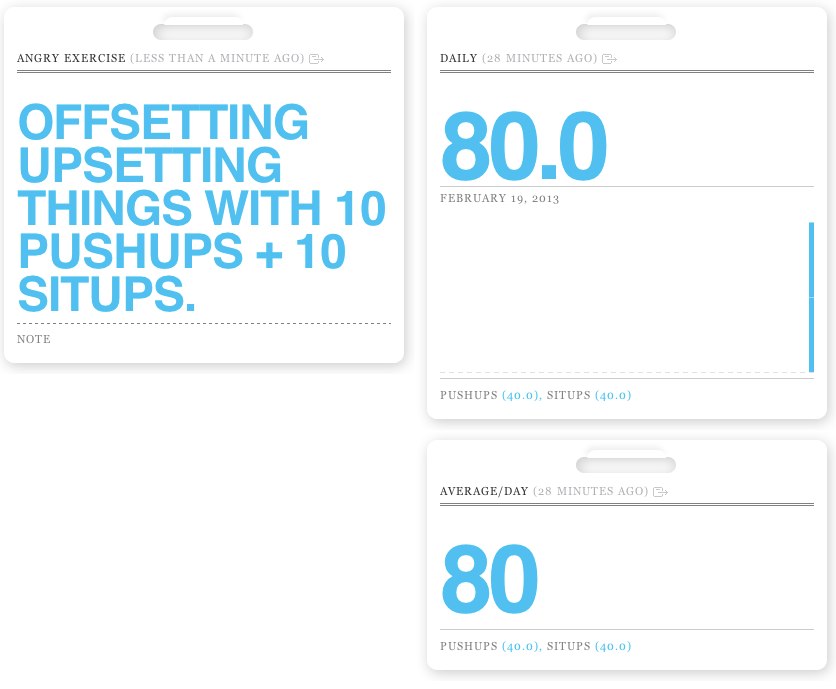 I'm kind of interested to see whether this will curb the amount of upsetting things I read each day, or whether I just get buff in the process.
Update:
Interesting thought: If you tend to Instapaper things to read later and *those* things make you angry, I assume that it'll become easier to keep your instapaper pretty empty! I doubt that Marco ever thought that Instapaper would inspire people to exercise more!